Where there is a sufficient tax liability for the year, this results in payments on account becoming due for the following year.
As an employee, tax is paid every month through the payroll – whereas the self-employed person used to pay their tax once a year on 31st January following the year-end.
HMRC introduced Payments on Account some time ago to bring balance between the different tax payment requirements – these Payments on Account are paid on 31st January and 31st July following the tax year, and count towards the following years tax liability.
However, people without an adviser may not realise that these need to be paid and perhaps only save enough to pay their expected tax liability for the year – unfortunately leaving another 50% to find by 31st January with a further 50% by 31st July that they hadn't budgeted for.
One of the advantages with preparing the returns shortly after the tax year-end is that the tax position is known well in advance, together with the amounts of any Payments on Account due.
Payments on Account are calculated based on the earlier years income and as such will most likely prove to be not entirely accurate when the actual return and computations are prepared.
In cases of rising profits there will be a further tax balance due, however the payments on account remain fixed so there is an advantage in preparing the return in good time and knowing what the balancing payment will be on 31st January.
In cases of decreasing profits, the Payments on Account may be too high and as such an application can be made to reduce these to the actual amounts required. There are penalties for reducing the Payments on Account to a level below the actual amount due, so it is important to make sure that these are calculated correctly. In advance of preparing the return, estimates can be used if next years profit is expected to be lower – but these should be finalised as soon as possible after the end of the tax year.
To summarise the payments that may be due for a new business:
31st January
100% of the tax for the previous tax year
PLUS 50% Payment on Account towards the next tax year.
31st July
50% Payment on Account towards the next tax year.
Payments on account are a common point that I've seen catching out several new clients, so early preparation of the accounts and tax return together with the tax computations will avoid any nasty surprises when it comes time to pay the tax liabilities.
I offer a no-charge initial meeting – if you know anyone who has started a business, or is considering doing so, please do put them in touch with me.
In my next blog post I will be covering National Insurance, a 'hidden' tax that again people may not have budgeted for when they start a business.
My latest video blog: HMRC are focussing on rental income in 2013
I have several clients who are due refunds from HMRC, due to tax overpaid in the previous year.
In the early stages of the new tax year it is a good time to prepare and submit the tax returns, so that these can be processed by HMRC when their workload is lighter. Indeed, if a return is submitted close to the submission deadline then it can be many weeks before a refund is processed by HMRC and issued.
In previous years, the quickest I have seen a return processed and the refund issued at this time of year was over about 3 weeks…
However in April 2013 HMRC have beaten this record, with only one day required between return submission and the issue of the payable order to our client!
As we submit the returns online directly to HMRC, using our award-winning software, they have all the information they need which speeds up the process.
If you know anyone who could be due a refund, please do put them in touch – whilst a one day refund might not be possible, submitting the return at this time of year will speed up the process.
My latest video blog: HMRC's Business Records Checks (BRCs)
One of the concerns people have before engaging an accountant is what it will cost.
Because of this, I offer affordable fixed fee packages with a number of options to suit different needs and budgets – and clearly show the costs of these.
Below is a copy of the package details, from our fees page.
In addition I offer a no-charge initial meeting where we can discuss your tax situation and how I can help you.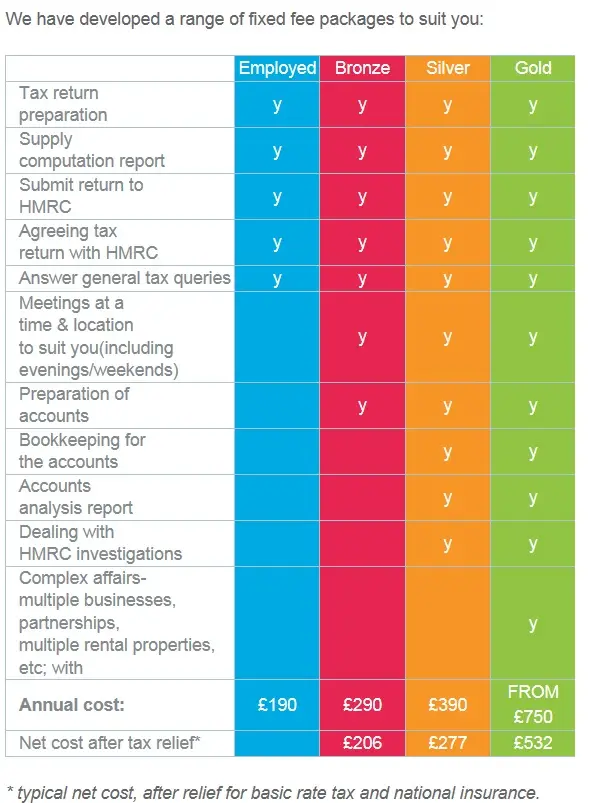 In the below video I also run through the packages:
In a few weeks time I will be giving a 10 minute presentation about my company, to a local networking group.
I will also be recording a video run through of the slides and uploading it to my YouTube channel.
In the meantime you can see a sneak peek of the slides on Slideshare:
My latest video blog, about the High Income Child Benefit Charge (HICBC):
I have been using video for business since 2009, and uploading this to my YouTube channel.
On the channel I share small business advice and tax tips – and now have nearly 19,000 views of my videos.
You can find my channel at:
www.youtube.com/user/taxhelpukcom
Please do subscribe.
My latest video blog, about HMRC's call centres:
My video blog, please do contact me if you require a referral to a payroll bureau for 2013: