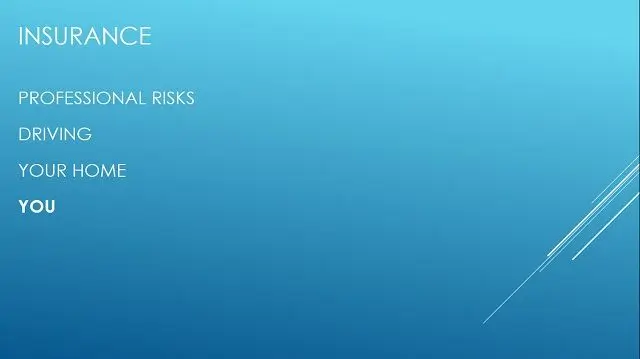 Insurance is one of the things that can be forgotten when someone becomes self-employed, but it has the potential to damage a business if not planned for.
I'll cover the main areas of business insurance that you should be aware of.
By the end, you'll understand what insurance coverage you should take out for your business to get started.
Firstly, we'll look at your Business itself.
There are three main areas to consider:
Professional risks insurance would cover you for causing damage to a client, their property or that of a third-party. Depending on your profession, this is usually quite reasonable considering that the coverage amount can be up to several hundreds of thousands.
Business motor insurance When you start a business your car insurance needs to be upgraded to cover self-employment activities. Again, usually this is very affordable – depending on your business and expected mileage.
Your home – If you're going to be working from home then you need to inform your home insurer that you will be doing so, so that your coverage can be increased. Remember to include the value of any business assets as well.
Also worth considering is insurance for the actual equipment itself used in your business. I am going to cover this in the office section, but depending on where you are going to be working and the risks your equipment will be exposed to, this may be of use. (For example I have insurance on my business laptop that provides next business day service from an engineer and at minimal cost for three years cover, so well worth having to avoid any downtime.)
You – an area that often gets missed by business owners is actually themselves. In some cases, they may actually be paying more for insurance on their vehicle than they do for them.
There are two main areas to consider:
1) Private Medical Insurance – if you fall sick you will want to get help as soon as possible, so the cost of the premiums may be worthwhile.
2) Disability Insurance – should you be unable to continue working, this would provide a monthly income (usually up to 60% of your earnings) right up until retirement.
Whilst you may have a very basic level of these two types of insurance from the state, you will most likely want to pay premiums to increase your coverage.
When it comes to insurance, as for investments, you should seek the advice of a professional who can assist you.
These are regulated areas so not something that your accountant can deal with themselves, but they should be able to refer you to someone who holds the necessary qualifications.