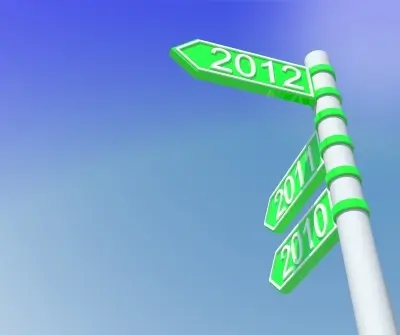 Happy New Year!
Following from my review of 2011, below are my top three predictions for 2012:
1) The further growth of the self employed.
Many of the newspaper headlines concentrate on the 'loss' of jobs, however fail to recognise the increase in the number of self employed people that is also occurring.
The loss of a job is an upsetting experience, I know from personal experience having had my role made redundant in the past. It's important for people to understand the distinction – its the role that is being made redundant, not them as a person.
For some people the loss of a job can actually be the incentive to start the self employed business they always dreamt about, but did not pursue due to their perceived security by staying in employment.
For others still employed, they may start up a part time business while still employed – as well as bringing in extra income when many salaries have been frozen, this is also giving people a head start with a business that can be switched to full time if they lose their job.
It can also give people an easy start into the self employed world, as they have an income from employment to support the early stages of their business. They may then choose to leave their employed role once they have the self employed business already running successfully.
With the growth I predict in the self employed, that also leads to growth in the general economy as well – they will all need websites, business cards, computers & support, accounts and tax returns, and numerous other services too.
2) A change in attitudes to Social Networking
By now, most people have heard of Social Networking – particularly Facebook, twitter and LinkedIn. There has been a huge expansion in their use over the last few years, my prediction is that people will start to become more sophisticated in their use.
On one level I predict an increasing concern about people's data and it's use, whether it is for targeting advertising at them or just that they are worried about the public accessibility of their data by others.
We have already seen a number of people cull their followers, people tend to accept all contact requests when they start and being open is important however if 'friend requests' are just companies using social media for broadcasting without engagement then people would be right to refuse these.
On another, I have noticed a proliferation of social media guru's over the last few years. There are good opportunities for the self employed to use social media to grow their business but it is important that they get the correct advice and not fall victim.
Here is where social media can actually be used – provided someone has a basic knowledge they can check out any of these guru's beforehand and see if their claims stack up.
3) An increased demand for face to face business networking
There was a recent survey conducted where the results from online and offline networking were compared – the results showed that face to face networking still exceeds the results online.
With the increased numbers of self employed people I predict, they may be starting networking for the first time and unsure of what to do.
When I started taxhelp.uk.com back in 2006 I was in the same situation, having always been an employee.
For the first two years I tried the traditional routes, going to open networking events where you walk into a room of 80 people and are told to 'go network'! I didn't find this easy at all, but in 2008 found BNI and joined soon after attending a meeting. Having a structure makes networking so much easier.
As BNI was founded in a recession, it has been proven to work and will be of great need in 2012. In my BNI story I share some of the benefits I've received through membership, including training in public speaking and networking, developing friendships and many thousands of pounds worth of business by referrals.
In summary, I predict 2012 will be a year of change but also a year of opportunity.
For myself and taxhelp.uk.com, these predictions align well with my own progress:
1) As we specialise in helping the self employed, this is our area. In addition we are seeing accountants and tax advisers being made redundant, who are the target franchisees for the taxhelp.uk.com franchise launching in the first quarter of 2012. There is therefore a dual expansion in potential franchisees and the clients we and they can help.
2) I have used social media in my business since 2008, it is something I can provide guidance on to clients and others, as well as our franchisees. My own perspective is from a business point of view, rather than someone just concentrating on the tools – which may mean they lose sight of the reason why. My book, published in late 2010, covers many of the points people should consider.
3) I know the business benefits of face to face networking, having been a BNI member myself and a chapter director. In the Spring of 2012 I will be launching my own BNI group in the Cobham area, as I know there will be demand. Indeed, I tried to join a local BNI group myself in 2011 but found that all the accountant slots were taken – it is the same for many professions.
What are your predictions?
Image: FreeDigitalPhotos.net