This article was written by Edward Hallinan on behalf of Unum. Edward is passionate about start-ups, having worked with a digital marketing consultancy from day one, as well as setting up his own professional musical group.
The signs are good. Judging from the latest findings of think tank, the OECD (Organisation for Economic Co-operation and Development), the UK economy will grow by 2.4% in 2014, almost doubling its May forecast of 1.5%*.
This is great news for start-ups, presenting a much sturdier financial platform with which to build upon. However, this is not the time to rest on one's laurels. Those who have struggled to balance the books over the last few years may still have debts to pay and newbies to the market need only look to the last decade for evidence of how not to let growth get out of hand.
The answer then? Efficiency. Did you know, for example, that 50% of business electricity use happens outside of the traditional business hours of 8am-6pm and that, consequently, £1 in every £2 spent on 'leccy' bills could be wasted?
These are just some of the findings from a new infographic compiled by income protection company, Unum, having pooled data from a recent Clydesdale and Yorkshire Bank survey.
And the possibilities for cost-cutting don't end there. With 554,750,000 active registered Twitter users (http://www.statisticbrain.com/twitter-statistics/) and 135,000 new registrations/day, the world has changed considerably since the Labour boom years (do you remember them?!). The use of social media has accelerated in a way no one could have predicted – with huge implications for businesses, particularly SMEs. Why? Because to all intents and purposes this is a free source of advertising. Rather than paying £100s to be featured in a paper that will be thrown away the next day, with a bit of technical know-how and interactive nous, businesses can reach out to millions without incurring any charges whatsoever.
So, without further ado, here is Unum's guide to Cutting Costs for Business. These simple efficiency tactics could be all you need to kick-start your organisation into 2014.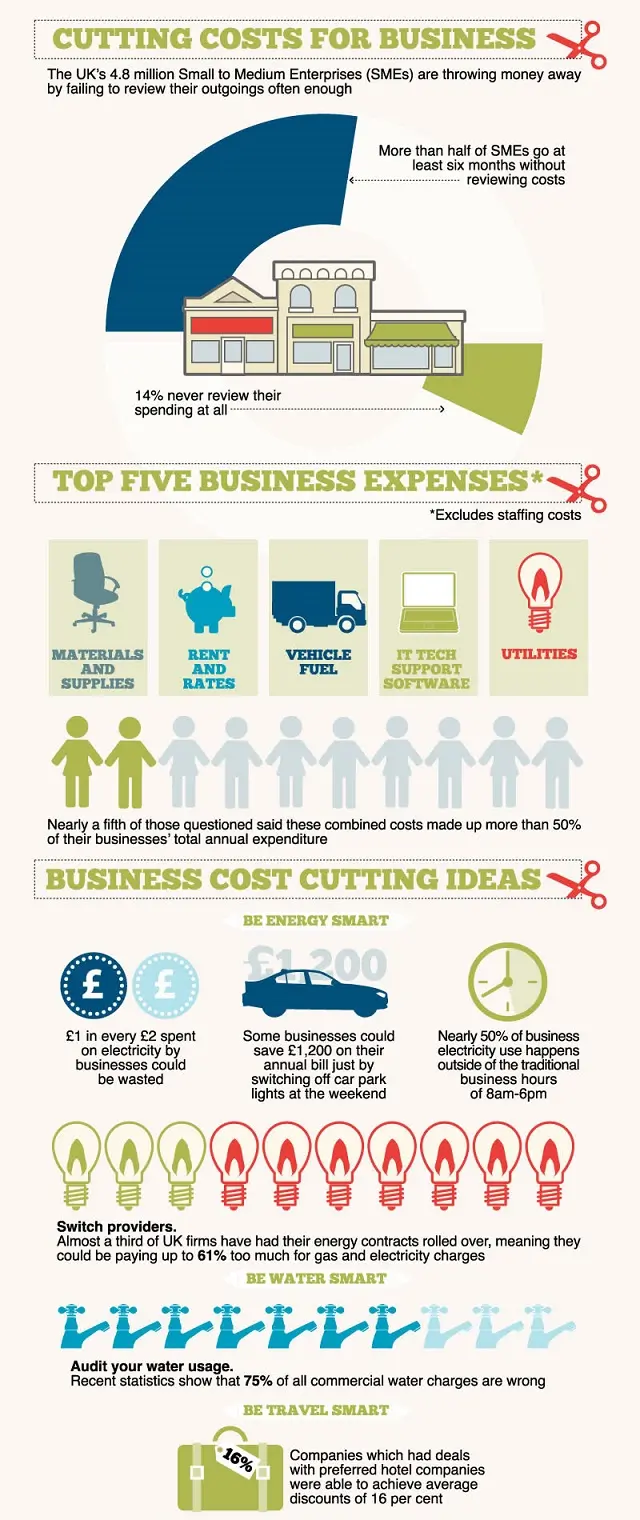 References:
* http://www.theguardian.com/business/2013/nov/19/global-economy-still-vulnerable-uk-improving-oecd-warns
About the author: