I have been using social media for business since 2008, and also presented on the topic.
With my experience I was asked to develop a Social Media training presentation in early 2011, to take to groups throughout Kent, Essex and Surrey.
I developed this and visited groups throughout all the three regions, sometimes having to leave home at 4:45am so I could arrive at the group to present. My presentation was also the most shared slide presentation on LinkedIn in the world, one day in August 2012.
My presentations were well received, one testimonial I received was:
"James visited my BNI Chapter in my capacity as the Education Co-ordinator of the BNI Ashford M20 Chapter and he delivered a presentation on Social Media, how it can be used to influence and grow your own business and also an introduction to BNI Connect. It was very informative, positive and thought-provoking. It also meant James leaving the comfort of his own home at 0500 hours to visit our Chapter and he did so without hesitation. I can thoroughly recommend James as a visiting speaker on this subject and all BNI Chapters in and around his vicinity should ask James to present to them – he has great levels of knowledge on this and his enthusiasm compliments the ethos of BNI – givers gain!" John Murray
In 2012 I was also part of the seminars we ran which combined my own skills as well as those of Zoe Cairns and Tim Kidd. We took these through the regions, to go into more depth than the group presentations.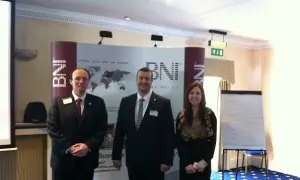 I regularly visit the Marbella region of Spain on holiday. As there were two BNI groups meeting there I offered to deliver trainings to them whilst on holiday and took my Social Media presentation here as well.
As well as giving presentations the role also included managing the BNI South East Facebook, twitter and LinkedIn accounts – as well as their blog.
It has been a great 18 months in the role, for which I am grateful to BNI South East for the opportunity.
There has recently been an exciting development with BNI South East engaging a PR company to manage their media so I'm looking forward to learning more from them as things develop in the coming months, and developing my Director Consultant role again.