When you hear the term accountant you may already have an image and think that you know what this is…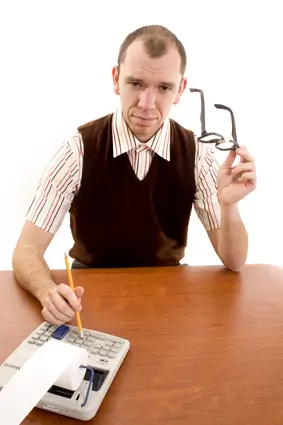 …however things are not always as they seem, and there can in fact be large differences between them.
Name
You may be surprised to find that the generic term 'accountant' isn't protected, and anyone can actually call themselves one – even if they have no experience or qualifications.
(The  term 'chartered accountant' is protected, but many people would not notice the distinction)
taxhelp.uk.com is a firm of tax advisers, registered in practice with the ATT and we also have specialists we can refer you to if necessary who are indeed chartered.
James McBrearty, the founder and managing director, is dual qualified in tax and accounts and a fellow of his tax association.
Experience
Sometimes accountants start a business by buying a block of clients from a retiring accountant – this can be a quick way to get started as you have a ready business, however could mean that they miss out on the experience of starting a business from scratch.
With taxhelp.uk.com's clients being mostly self employed sole traders, the fact that James McBrearty started the business from scratch means that he has a greater connection.
He has experienced himself the typical situations that most self employed people will face.  James also has over two decades of experience in accountancy – gained in both practice and industry.
Specialism
A normal accountant could perhaps be considered to be likened to a GP – dealing with many aspects of accounts and tax, perhaps including payroll, limited companies and other areas.
taxhelp.uk.com specialises in helping self employed sole traders pay less tax and avoid fines – that is our core business and our area of specialism.
Should individuals have need of other services then we would refer them to members of our network who specialise in their own areas, meaning that you always have a targeted service specifically tailored for your needs.
Building a business
taxhelp.uk.com was started in 2006, and has consistently grown year on year with double digit growth in these difficult economic conditions.
With this experience James McBrearty published a book in 2010, Chocks Away, sharing the secrets of his success and how to combine online and offline networking.
This is also experience that he shares with our clients as part of the service, helping them to grow their own businesses.
Price
Whilst we do not compare our fees with other accountants, there are a few points you may want to consider in relation to the topic:
Is the price a quote or an estimate? Estimates can sometimes unfortunately be too low, resulting in a nasty surprise later.
Is VAT included? Many accountants quote fees excluding VAT, so you could find an extra 20% on top of the bill you had budgeted for.
Are there any extras? Do you have to add a cost for software to produce your data in a format they would like or are they flexible? …and remember to include your own time cost for learning how to use their system and using it.
Are the prices open? Do you know up front what the packages are and their costs? Is this published, or do you need to find out at a meeting?
These are some of the issues that can affect you as a sole trader, the great thing with the web is that it is easy to do research on an accountant now online to answer these questions. You can then choose one that will meet your needs.
… and if you have any questions please do contact us, we also offer a free initial meeting as well where we can answer these.