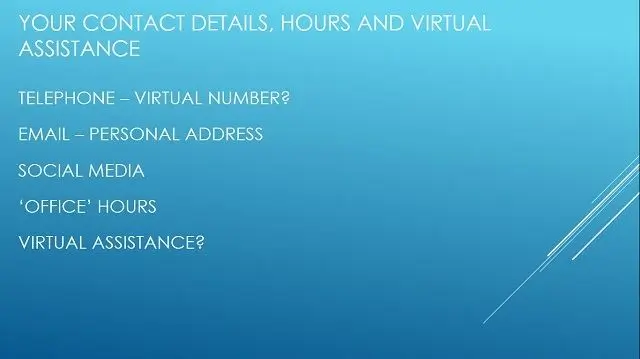 When starting out in business you are suddenly all of your own office staff and need to set out the contact options for your clients and new enquiries.
We'll cover the methods of how people will contact you and when they will be able to reach you. We'll also look at how you can get an advantage.
By the end you will be able to see how to create the impression of being a much larger business.
Telephone
Firstly, we need to establish how people are going to contact you by phone.
I highly recommend that you have a low rate virtual phone number, that can be redirected to your mobile or other location. It will stay the same even if you change mobile number or location as you just change the redirection instruction.
Clients are reassured that you are not just one person with a mobile, also they may not want to call a mobile phone if the costs are high.
Studies have shown that people are not very likely to leave a message on your answer phone, but will do if they speak with a real person when they call – I'll cover how to get round this at the end of the session.
Email
Next we need to look at email. I highly recommend having your own domain and a personal email address linked to your website. The alternative of using a free email address will count against your credibility – if you can't afford the very small amount to have a private email then clients will worry about your reliability as free email accounts require no investment.
This is a point that's often missed, but I have even seen tradespeople with a free email address sign written on the side of their van in giant letters. The signwriting would have cost several hundred pounds, but for less than maybe £50 they could have had their own website address and personal email first. Also, what happens if your free account is closed by the provider?
With telephone and email established, these are usually the main methods that people will use to contact you.
Social Media
Another method to consider is social media. If you are using social media, you must check it regularly to make sure that you are replying in a timely manner to any messages there.
Unfortunately, some people think of social media as just a broadcast media and don't monitor the messaging side – as a result they miss out on business enquiries and networking opportunities.
Office Hours
Now that we know how clients can contact you, we need to know when you are available, and publicise it. That way expectations are managed and people won't be disappointed.
With published information, people will know how long they will typically be waiting for a response. If you've adopted the smartphone I recommended then this further increases your options.
Indeed, there are many times when I've had someone make an enquiry via email or social media at the weekend or out of hours and I was able to respond quickly without any detriment to myself. I've also found that being able to reply quickly with a short message can save clients much time if they are stuck with a query.
When it comes to hours, you don't have to adopt the standard business hours – you could instead choose hours outside this to accommodate your own and the client's needs. For example, I've chosen to meet with clients from 7am in the morning up to after 9pm at night, and also at weekends. The great advantage with your own business is that this is your choice and you can then take time off later to make up for it.
Virtual Assistance?
Finally, in this session we look at Virtual Assistance or VA. I mentioned that many people won't leave a message on your answer phone. A VA can answer the phone at any time when you're not able to. They can also filter out sales calls so you're not disturbed, saving you considerable time and also blocking some of the sharks who you would otherwise speak to.
When a VA takes a message they can email or text it directly to your smartphone, so you don't have to wait until you're back at the PC to get the message.
A VA is also able to call clients for you if you're out of the office, but don't have the time to make the call yourself.
Choosing the right communication options is important. Spending some money on a VA can bring greater returns for you, generating higher levels of enquiries and as a result getting you more business.