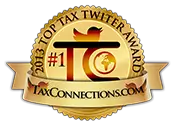 TaxConnections announced today the first half of 2013 Top Tax Twitter Awards.
The awards go to the most prolific tax twitterers for the first half of the 2013 calendar year.
"As Twitterers know, Twitter is a great way to actively engage an audience with what you are doing or thinking during the day. You can get a sense for the personalities of the Tax Twitterers by following them on their twitter handles. We provide the Tax Twitter Awards to identify the tax professionals who enjoy twittering with you", states Kat Jennings, Founder and CEO of TaxConnections.
I ranked 6th in the awards, you can follow me on twitter at @taxhelpukcom